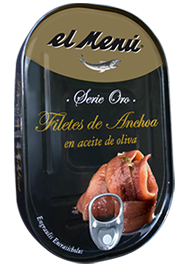 Cantabrian Anchovy Fillets in Olive Oil - Hansa 200 gr.
Delicious Cantabrian anchovies in olive oil in Hansa format 200 gr.. Its flavour and texture make them irresistible. We recommend you to eat them straight out of the can them with a good bread.

Nutrition facts
NUTRITIONAL INFORMATION FOR 100g.
| | |
| --- | --- |
| Energy | 816kJ/192kcal |
| Total fat | 10,1 gr. |
| Saturated fat | 1,77 gr. |
| Total carbohydrates | 0,3 gr. |
| Sugars | 0 gr. |
| Protein | 25 gr. |
| Salt | 14 gr. |
| Omega-3 (EPA+DHA) | 420 mg. |
Logistics information
| | |
| --- | --- |
| Código | 1000012 |
| Código EAN | 8410140000792 |
| Peso bruto | 220 gr. |
| Peso neto | 200 gr. |
| Peso escurrido | 135 gr. |
| Caducidad | 18 Months |
| Unidades caja | 10 |
| Código DUN | 18410140000799 |
| Cajas palet | 392 |