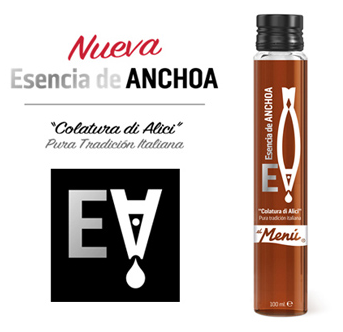 Anchovy Essence
Our Anchovy Essence  has a fresh and smooth aroma, with a touch of umami. It is obtained by a careful and long maturation of the anchovies fished in spring and seasoned in the traditional style "alla vera carne".
As the process of maturation of anchovy progresses, the brine acquires the properties of the salting. Obtaining thus, our Essence of Anchovy. 

Historically, the anchovy fillets have been the most important products in this traditional preparation, forgetting this particular component which has a great gastronomic potential to discover.
In our recipe section, you will find ideas to taste this delight, as, for example, the traditional and exquisite recipe "Spaghetti a la Colatura de Alici". We suggest you to add our Essence of Anchovy to your list of dressings, to innovate and personalise your salads, sauces and fish, with an exquisite anchovy flavour.

A product packaged in an elegant 100 ml bottle along with an attractive 6-unit display case.

We invite you to discover a little more about this product in our news and recipe section!

Nutrition facts
| | |
| --- | --- |
| Valor energético | 294kJ/69Kcal |
| Grasas | 0,09 gr. |
| Saturadas | 0,02 gr. |
| Hidratos de carbono | 2,2 gr. |
| Azúcares | 0,1 gr. |
| Proteína | 14,9 gr. |
| Sal | 18,6 gr. |
Logistics information