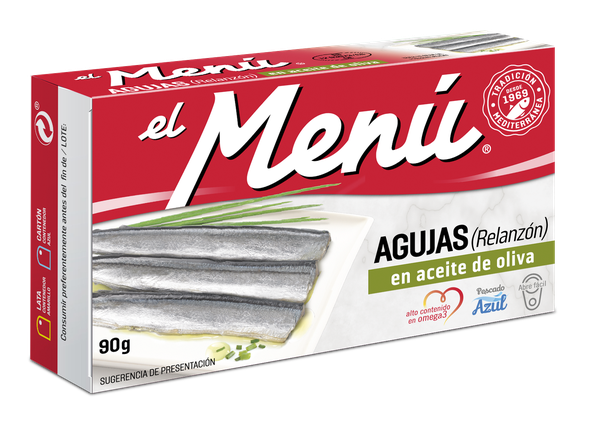 Garfish in Olive Oil
Delicious preserve elaborated with one of the most striking blue fish due to its long and slender shape and intense and vivid colour. We must highlight the delicacy of its taste. Covered with olive oil of the best quality, they retain all the nutrients of the fish. You will find the best way to eat in our choice of recipes.

Nutrition facts
NUTRITIONAL INFORMATION FOR 100g.
| | |
| --- | --- |
| Energy | 990kJ/238Kcal |
| Total fat | 17,9 gr. |
| Saturated fat | 2,01 gr. |
| Total carbohydrates | 0,1 gr. |
| Sugars | 0 gr. |
| Protein | 19,2 gr. |
| Salt | 1,68 gr. |
| Omega-3 (EPA+DHA) | 190 mg |
Logistics information
| | |
| --- | --- |
| Code | 1000267 |
| EAN code | 8410140002673 |
| Gross weight | 118 gr. |
| Net weight | 90 gr. |
| Drained weight | 65 gr. |
| Expiry | 6 YEARS |
| Units/box | 30 |
| DUN code | 48410140002671 |
| Boxes/palet | 168 |